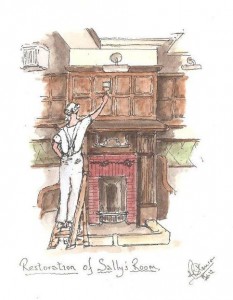 The historical and quirky Sallies room at the Britannia Upper Gornal has not changed a great deal over the years, and that is just the way customers like it. Recently however, it has been looking a little tired and in need of some tender, loving, care. Unable to find the necessary craftsmen required to carry out the delicate task, Manager Lisa Glen decided to tackle the job herself.
Donning her dungarees, Lisa has carefully and painstakingly "restored" the room with the help of her husband Peter. All the Trinkets, pictures and memorabilia have been taken down and carefully cleaned, The decorations, cleaned, restored and varnished, and the ceiling and coving given a new coat of paint.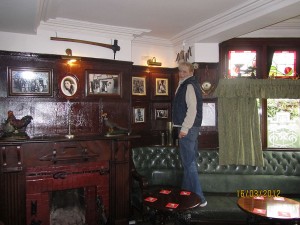 This has all been finished off with a fine new Axminster carpet of traditional design. One customer, Mr John Stenson, was so impressed by Lisa's work that he got his own brushes out and painted her in action! We think Lisa has done a fine job, and so deserves a special mention on or news pages!
The Britannia is open Mon-Thurs: 12-3, 7-11, Fri: 12-4, 7-11 Sat: 12-11 Sun: 12-4, 7-10.30, With table service in Sallies room on Friday evenings, for a true taste of a black country pub from bygone days we think it is unsurpassed, we hope your customers do too.