Barca2Brum – the Challenge.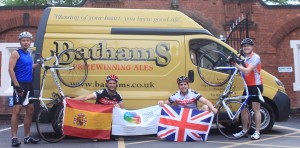 At the end of August a team of cyclists, old school friends; will be embarking on a monumental 1100 mile bike trip from Barcelona back home to Birmingham – well Oldswinford to be precise! To raise money for Brain Tumour UK.
With the support of Bathams, they aim to complete the journey in 10 Days, crossing the finish line at Oldswinford Hospital School.
Organiser Tom Bulteel said:
A few years ago my Dad (John Bulteel) was diagnosed with an inoperable brain tumour and sadly passed away within months of diagnosis. More devastating than the thought that we may lose someone we love was watching the speed at which the brain tumour affected the things that meant so much to him. A passionate teacher and tennis player very quickly lost his speech and the use of the right side of his body, which he never regained.
Hopefully the research done by Brain tumour UK will lead to improved prognoses and standard of life for those diagnosed with brain tumours.
We wish them every success with their journey; and also with their fundrasing for this very worthwhile cause. Further information can be found at http://www.barca2brum.org/ and donations can be made directly at http://www.justgiving.com/Barca2Brum