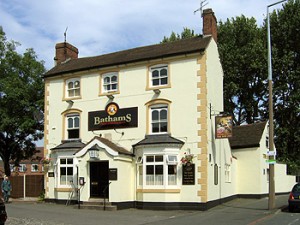 Bathams  has just acquired another pub – The New Inn at Wordsley
Full of the character Bathams pubs are known for, the pub stands at the centre of the village, on the main thoroughfare.  It is locally listed by Dudley Council as a building of special interest – earliest records suggest it became a pub in the 1820s, although the building is older and could even have been a farmhouse.
Buying another pub means Bathams are bucking a national trend: some figures suggest that as many as 25 pubs could be closing for good every week, and boarded up pubs around the Black Country tell their own tale. Pubs are an integral part of our British heritage, and Bathams pubs and brewery are an integral part of our local heritage.
Bathams intends breathing new life into this important pub with its mix of prize-winning beers, great value, friendly service and warm atmosphere. The new Manager will be Steve Hadley. Steve is already well known locally having kept other pubs in the Stourbridge area, and Bathams drinkers in particular will know him from his one and a half years at The Britannia in Upper Gornal. He is also a keen musician, having played in various tribute bands. As The New Inn benefits from a full music/late licence, this is definitely something to watch for in the future!
The New Inn reopened on Thursday, 10th April. There was a private reception for invited guests and Press from 6pm, and at 8pm the pub reopened to the public.
Matthew Batham, Director, said  "It is wonderful that, even in a difficult economy, the popularity of Bathams beers remains undiminished, and that at The New Inn we are able to create another Bathams haven for lovers of traditional beer and pubs."