The amazing tennis skills of local girl Elli Share see her take the next step on the long hard road to becoming a top player we may one day see at Wimbledon.
From the age of 5, Elli has shown not only huge talent, but also the total dedication that is part and parcel of becoming a championship player. Hard daily training, careful diet and constant travelling to tournaments, plus maintaining her excellent school grades, has meant a very unusual life for Elli and her parents.
Now 14, nearly 10 years on and countless trophies later, Elli is joining the prestigious Priory Club at Edgbaston. This is a Lawn Tennis Association (LTA) High Performance Centre, where Elli will be training every day for 4 hours each day.
For the last 2 years, she has attended and lived at the LTA Academy at Loughborough University, so will now be based back at home again in Coseley with proud parents Kevin and Monica Share.
Supporting their daughter and funding the increasing costs of Elli's talent and progress is an ongoing battle. Dad Kevin said "The more she progresses, the greater the costs, plus she now plays in Europe as well as all over the UK."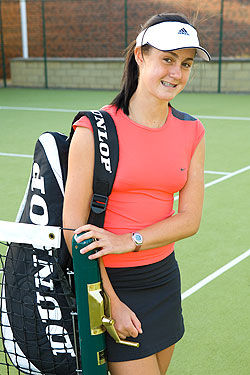 Fortunately, local businessman Matthew Batham of Batham's Brewery was very impressed when he read just how hard Elli works and how talented and successful she is and was keen to support and sponsor such an important talent. He said " As a local business we wanted to help Elli, a local girl with exceptional ability, where we could. We feel we have a real winner in the making."
Elli has just returned from the Belgium Event, reaching the semi finals, and, with another British girl, won the Argayon Cup Doubles event, beating the Number 1 seeds in the final.
Matthew Batham added "We are now looking forward to following Elli's progress at the Edgbaston Priory Club and think the Black Country can look forward to its own future champion!"