The Unicorn has a new sanctuary for smokers and their companions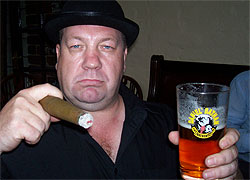 At last! A celebration for the smokers amongst us! On Thursday 14th June 2007, at their Unicorn Pub in Wollaston, Stourbridge, Batham's Brewery held the Grand Opening of its first Garden Lounge, created for the comfort and convenience of those who enjoy smoking, for their friends and family, and indeed everybody who would simply enjoy the garden ambience.
The new Garden Lounge at The Unicorn was created from the former bowling club changing room, overlooking the lovely garden. Whilst complying with the Government's requirements for smoking shelters, the Garden Lounge has all the home comforts such as heaters, lighting, pictures and comfortable furniture which ensure that those smoking can do so in comfort and without the sense of being 'banished' from the pub.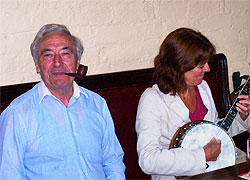 At the Grand Opening, a Jazz Band, free snacks and a free drink for anyone dressed as Famous Smokers ensured everyone enjoyed themselves. Winston Churchill, Marlene Dietrich and Groucho Marx were amongst those who attended!!
At the opening ceremony, Director Matthew Batham cut the ribbon, and declared the Garden Lounge 'Open'.